Robert E. Kielb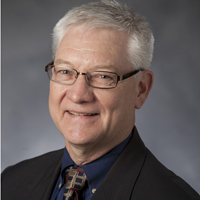 Director, GUIde Consortium
Contact Information:
Office Location: 179 Hudson Hall
Office Phone: (919) 660-5327
Email Address: rkielb@duke.edu

Web Pages:
Education:
Ph.D. Ohio State University, 1981
MS Ohio State University, 1975
BS Purdue University, 1971
Research Interests:
Conducts research and supervises graduate students in the areas of unsteady aerodynamics, aeroelasticity, mistuning, damping, and probabilistic methods. Principal investigator on AFOSR, DARPA, NASA, and Industrial funded research projects. Provides consultion services to turbine engine companies, including most major companies. Teaches undergraduate and graduate courses in mechanical engineering with emphasis on vibration and design.
Specialties:
Aerodynamics
Structural Engineering
Aeroelasticity
Vibration
Design
Courses Taught:
ME 544.01 - ADV MECHANICAL VIBRATIONS
ME 555.01 - ADVANCED TOPICS
ME 555.07 - ADVANCED TOPICS
ME 555.14 - ADVANCED TOPICS
ME 490.01 - SPECIAL TOPICS
ME 555.05 - ADVANCED TOPICS
ME 759.01 - SPECIAL READINGS
Representative Publications:
R. Kielb and J. Barter and O. Chernycheva and T. Fransson, Flutter of low pressure turbine blades with cyclic symmetric modes: A preliminary design method, Journal Of Turbomachinery-transactions Of The Asme, vol 126 no. 2 (2004), pp. 306 -- 309 [abs].
V. Ramamurti and R. Kielb, Natural frequencies of twisted rotating plates, Journal Of Sound And Vibration, vol 97 no. 3 (1984), pp. 429 -- 449.
?>